Just because you play a contact sport doesn't mean you have to risk your teeth. From boxers to basketballers to the back line of the local kids rugby team, a well-made, close-fitting mouth guard is a good idea, providing teeth with significant protection from impact injuries.
So what are mouthguards for?
As its moniker suggests, a mouth guard helps prevent injuries to the wearer's mouth. 
Fitting over the teeth and gums, mouth guards are most commonly used to prevent injury to the mouth during contact sports. Mouth guards help prevent chipped or broken teeth, fractured crowns and bridgework, lip and cheek injuries, fractured jaws and concussions. 
In some instances mouthguards can be prescribed for bruxism or grinding of the teeth. 
Who needs a mouthguard?
Mouthguards should be worn by anyone – adult, teen or child – playing a contact sport or recreational activity with the potential for injury to the mouth area. 
What are the signs of a good mouthguard? 
A good mouthguard will be comfortable, won't get in the way of talking or breathing, be resistant to wear and easy to clean.  
What types of mouthguards are there? 
There are three general categories of mouthguards on the market. 
Stock mouth protectors come pre-shaped and ready to wear. They are inexpensive, however they offer minimal protection (if any) and can be uncomfortable. We don't recommend this style of mouth protector. 
"Boil and bite" mouthguard varieties provide a better fit and better protection from impacts than stock mouthguards. While not perfect, mouth guards that you shape yourself are certainly a better option than forgoing mouth protection entirely. 
Custom-fitted mouthguards provide the greatest protection from all forms of sports-related dental injury. Each custom-fitted mouthguard is highly personalised, fitting the wearer exactly and can be customised with additional thickness to suit individual needs and the particular sport being played. 
Simply Dental offers both low and high impact options.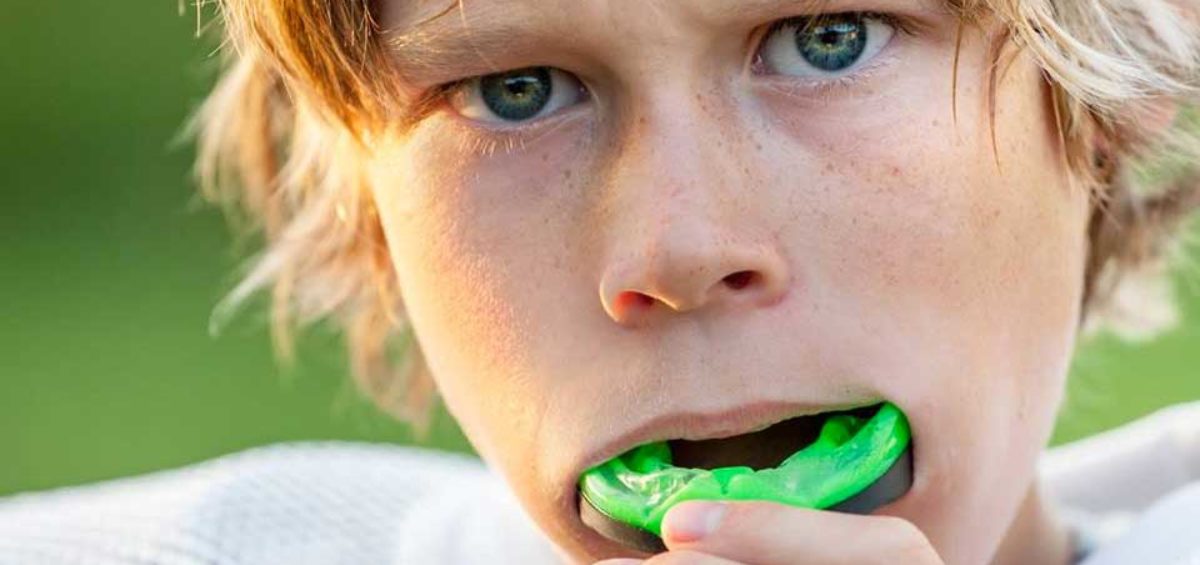 How are custom mouthguards fitted?
At Simply Dental, your custom-made mouthguard is created from a detailed mould taken of your teeth, providing you with the greatest possible comfort and protection.  
What are mouthguards made of?
At Simply Dental, our custom-fit mouthguards are made from thermoplastic material.
Top teeth only? Or both?
Most mouth guards are generally only fitted for the upper teeth, but we can also fit them for the bottom set of teeth in certain situations (such as if braces or some other dental appliance is  present).
How can I store my mouth guard hygienically?
Easy! Here are three steps for a more hygienic mouthguard:
Store in a clean, airtight container

Scrub with toothpaste and a toothbrush after use

Occasionally scrub the mouthguard with soap and warm (not hot) water
I've got braces? Can I wear a mouthguard? 
Short answer: yes, but talk to your dentist first to make sure everything fits correctly. The same goes for invisalign trays. (Any other appliance should probably be taken out during sport). 
Looking for a custom mouthguard in Wellington? Simply Dental can create the perfect-fitting custom mouthguard, whatever your requirements. Call 0800 123 343 for an appointment.